Dermalogica isnt just the worlds leading professional product line its a complete system for success all therapists are highly trained and go to lots of different classes to keep up to the latest tips on the skin care products.
We offer a range of services from face mapping skin analysis to skin bar. We divide the skin into 14 distinct zones. By using the zones the therapist is able to conduct an inch by inch methodical analysis of the facial landscape guaranteeing that the home care prescription will fully address each clients concerns.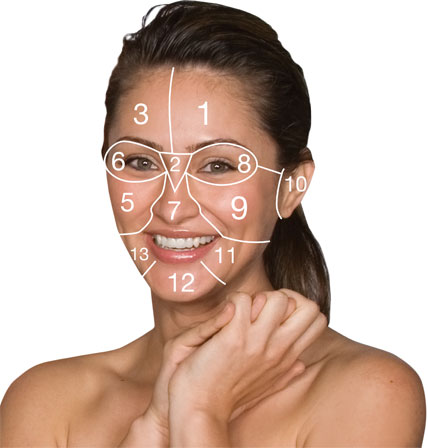 Skin Bar
Is were clients can receive free face mapping and get to test all the products there interested in "Try Before You Buy" Having the guidance of a therapist to show you how to use the products and to ask any questions about your skin.
We offer 3 different Dermalogica Treatments.
Microzone:
Often clients just want a quick targeted solution to skin care concern, For this reason Dermalogica created a 20 minute high intensity treatment that are ideal for solving skin care concerns between professional skin treatments. They are also ideal for men and teenagers which provide a true skin care solution in just 20 minutes.
Full Professional Treatment:
Give the therapist 45 – 60 minutes to work on your skin, Depending on its needs, It Includes
Double Clease
Face Mapping
Exfoliates
Massage/Pressure point Massage
Mask
Toner
Eye cream
Lip Cream
Moisturizer
Using your client card and face mapping will ensure you are getting the best results
Bio-Surface Peel:
This is the latest treatment that Dermalogica have to offer, They believe a chemical peel should work with the skin Not against it. So they develop new expert strength Bio surface peel, The worlds highly trained skin therapist. Its Unique multi phase approach powerfully targets fine lines hyoerpigmentation and acne to a whole new dept.
If you have any questions we have 3 fully trained Dermalogica experts here in zinc and we are happy to answer any questions you may have.
Tanya and the Zinc Team