Today's blog is all about hair extensions! Extensions are all in at the moment with so many celebrities wearing them, They can be got to add length to the hair or even just to add thickness!
So before you get your luscious locks I would recommend you have a little look at the aftercare that is needed an have a chat with a stylist . This will give you a little insight into seeing if you would be up for the aftercare needed with extensions, and also if your dream look is possible. And if both the stylist and client are happy you can go ahead and colour match the extensions to your hair colour.
Their are two types of extensions that are most popular at the moment. Microbeeds and bonds.
Microbeeds are applied using small beeds which are tightened onto the top of the extention and your hair, and bonds are keratin which is melted onto the hair.
To be applied extensions take between 2 and 3 hours with styling.With the right after care extensions should last up to 3 months. After which they should be removed professionaly as to not cause damage to the hair.
Using the right products can also help keep your luscious locks looking amazing for longer! We here at zinc use the amazing platinum hair and we love it! So why not pop in for a chat on getting your dream hair! You will be able to curl straighten and style them to which ever you are feeling!
Here is of of our clients after having her extensions done who chose to go with a straight and sleek look: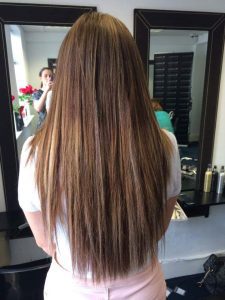 Or another one of our clients had her extensions curled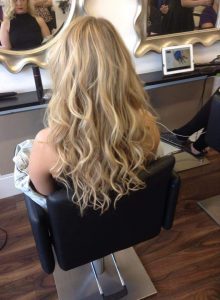 Here are just a few pro's and con's on extensions,
Pro's:
You don't have to wait months to grow your hair.
They add lots off thickness to flat thin hair
You can add a different mix of colors without. having to color your own hair.
Once looked after you can get up to four months out of them
Con's:
If not applied properly this can pull on the hair and cause alot of pain.
They can cost quite a bit to get put in.
It can take a few ours to apply a head of extensions
 If they are not looked after properly they will matt and do damage to your hair
If you have any questions about extensions just call into the salon and we will be happy to give you a free consultation
Louise & the team @Zinc