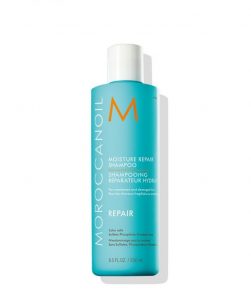 So everyone knows about Moroccanoil original Argan oil treatment for your hair and all the benefits !! From shiny , smooth , repaired ends . Increased elasticity , hair that grows longer and healthier the list goes on and on !!
But did you know about their wonderful shampoo range ?
Moisture repair 
Hydration
Extra volume
Smoothing
Clarify
What they all have in common is that they are all Colour safe !
Which makes sense so that rather than worrying about protecting your colour , you can pick a shampoo that best suits your hairs needs.
They are all;
Sulfate free ( sulfates are harsh detergents that dry the hair and damage colour )
Phosphate free (abrasive salts that are used in cheaper shampoos)
Paraben free , a preservative which has been linked to cancerous tumors and will be taken out of all cosmetic products in the next few years .
So nothing harmful and gentle for sensitive scalps and children .
These products are concentrates , so use a small amount and it's essential to add water to get a lather rather than more product. Just because it doesn't bubble the same as cheaper shampoos ( because it doesn't have sulfates) doesn't mean it isn't cleaning your hair !!
Moisture Repair
This shampoo is fantastic for anyone with dry hair that is also experiencing breakage ! It will restore moisture and replace lost proteins ! The more you use these shampoos the better and better you hair gets.
Ideal for highlighted and bleached hair or balayage techniques!
Hydration
This is for what I call thirsty hair !! Hair that just naturally is dry and needs moisture to make it feel soft and healthy again . It contains a fab ingredient called Red Alge which is a moisturizer that protects the hair cuticle from dryness .
Excellent for any hair type that suffers with dryness or for when you are starting to lighten your hair.
Extra Volume
For anyone who wants weightless lift in their hair , this is your only shampoo !! A plant extract that plumps the hair from the inside out and keeps volume locked in when used with extra volume conditioner !
Perfect for fine hair that wants weightless volume and as a weekend shampoo for styling big hair styles!
Smoothing
This is an anti frizz humid blocking shampoo that works on all hair types that have a frizzy texture . When used with smoothing conditioner , it temporarily realigns the keratin bonds in the hair to keep your style smooth and sleek for up to 72 hours !
This suits fine hair and thick hair , it's the texture you need to examine . So if you have a frizzy texture give this a go ! It's my personal shampoo that I would not be without !
Clarify
A gentle cleansing shampoo that purifies and removes residue, while being gentle to the hair and colour .
Perfect for swimmers to remove chlorine build up , hard water areas and anyone who uses a lot of products .
In the salon we love this product as it prepares the hair to allow maximum benefit for masks to work their magic.
I hope that explains the different shampoos in the Moroccanoil range and if you need a recommendation or want to buy some please contact us in the salon or visit our online shop.
Big love and hugs
Lisa xxx