Ultimate Blonde set
€25.00
Bring out the best in blonde hair with this complete capsule collection featuring NEW Blonde Perfecting Purple Conditioner, Award winning Blonde Perfecting Purple Shampoo and the iconic Moroccanoil Treatment Light all at a very special price.
Designed to restore your hair colour to its intended fresh-from-the-salon appearance, the Blonde Perfecting Purple Shampoo and Conditioner both deposit violet pigments with each use to help counteract brassy tones in blonde, lightened brunette or grey hair whilst ArganID technology delivers the antioxidant powers of argan oil deep into the hair's cortex to leave hair to deeply nourish and improve manageability. The result? Brighter, more radiant colour.
To accompany these Moroccanoil Treatment Light is a product that creates the proper canvas for all hairstyling for those with light-coloured hair. Moroccanoil Treatment Light boasts all the same benefits as the original, but is lighter in texture and colour. Complete with both styling and conditioning benefits it creates long-lasting smoothness, increases manageability, speeds up blow-drying time and boosts shine.
This Ultimate Blonde Set includes:
– Blonde Perfecting Purple Shampoo 70ml
– Blonde Perfecting Purple Conditioner 70ml
– Moroccanoil Treatment Light 25ml
3 in stock
Description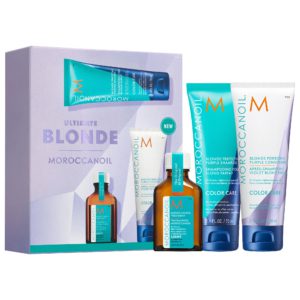 Opening Hours
Mon: 9.30am – 8.00pm
Tues- Wed: 9.30am – 6.00pm
Thurs & Fri: 9.30am – 8.00pm
Sat: 9.00am – 4.30pm
 *Sun: Closed